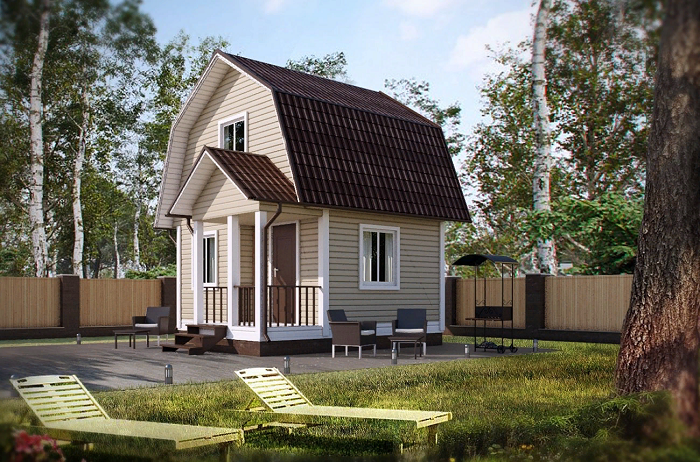 07 Oct

Construction of economy class country houses from SIP panels

The construction of economy-class cottages is always relevant. This is due to the fact that people live in them for a short time, seasonally. But a short stay does not mean at all that the house should not be comfortable, there should not be good thermal insulation. First of all, such a house must be thermally insulated so that it can hide from the heat in a hot period; also, such a characteristic will allow you to live in the country and in the off-season; if you also equip the house with a heat source, it will be able to warm up quickly and maintain a comfortable temperature longer.

The construction of economy cottages from SIP panels will provide such good thermal insulation. This material has a pleasant ratio of quality and price, which means that houses made of it will last a long time and will cost you quite cheaply. SIP consists of two OSB boards, between which a layer of expanded polystyrene is laid; with the help of special technologies, this combination is transformed into a solid monolithic panel with low thermal conductivity. SIP is used in the construction of not only houses, but also a wide variety of other objects. But, if this idea does not suit you, then today there is also an opportunity to purchase economy class apartments, this is a good option for solving the housing problem.

There are many different standard designs of houses of various price categories. But the most popular are projects of small houses, affordable for everyone. The construction of such cottages is carried out by special companies, where you should contact. The company can either completely build the house or, to save money, install only the frame, leaving the rest of the work to the customer.

After the project is selected and the contract is signed, the drawings are sent to the factory in order to produce the necessary parts according to them. In two or three weeks, everything you need will be delivered to the construction site. The house is installed on a pre-prepared foundation. Installation completed in just a few weeks.

Finishing work can be done using absolutely any materials. Finishing can be carried out independently, this is done very simply due to the evenness of the surface of floors and walls.