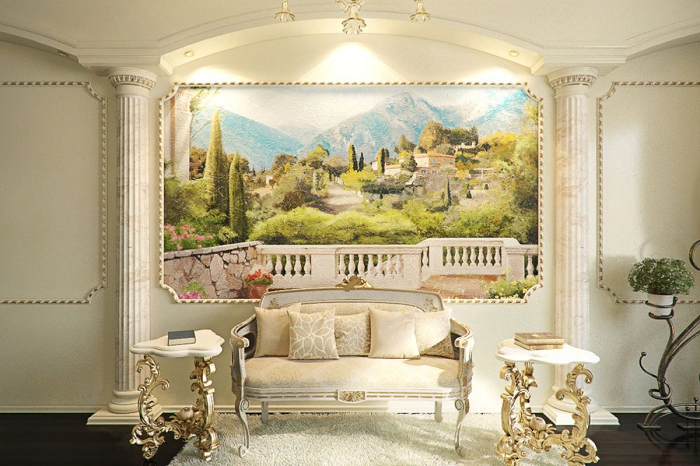 23 Jun

Is it worth using a mural in the interior

To decorate their homes, people have long used images that in one way or another were applied to the walls. At first it was rock paintings, frescoes, mosaics, paintings, but over time, more and more new ways appeared. With the advent of photo printing, people have increased the ability to create an original design for their home. Such innovations include art panels.

The mural is a large image that is applied to several plastic panels. They are attached to the wall from floor to ceiling using a special frame. We can say that this is a modern analogue of photo wallpaper, but not on paper, but on plastic panels. Plots can be quite diverse: landscapes, flowers, animals, fairy-tale characters, paintings by famous painters.

Is it worth using a mural in the interior

The mural is assembled into a single picture from several panels. For their production, a special technology is used, in which the quality of the picture is not inferior to the illustrations of glossy publications. That is why the image on the wall turns out to be very believable, creating one or another atmosphere in the room.

As a picture, you can choose any plot you like. The choice of image should be approached with all responsibility, because it can both decorate a room and spoil it. Many manufacturers offer art panels with a special pattern, with which you can create an unusual mosaic on the surface of the wall.

Plastic panels easily tolerate moisture and detergents. They are resistant to mechanical stress, so the appearance of dents and scratches can be avoided. In addition, these days there is a wide choice of colors.

This finish is an excellent solution for a balcony. A variety of art panels makes it possible to move away from the standard wood-like colors and decorate the room in any style you like. The balcony can be made in bright or, on the contrary, in delicate pastel colors.

For walls in the hallway and corridor, not only MDF panels and washable wallpaper are great, but also mural. These products are easy to maintain and durable. They will not lose their original appearance after numerous cleanings, even with heavy pollution.

Art panels for the children's room are able to please the child from the heart. Favorite fairy tale characters will create an atmosphere of fun and magic, inspiring the baby to learn new things and giving scope to the imagination.

The mural looks great on the ceiling. The height of the walls is reduced by only a few centimeters, and installation is quite simple and affordable. In addition, special preparation of the old coating is not required, since everything will be hidden behind the panels, including electrical wires. This ceiling is not afraid of moisture and is easy to clean. It will retain its original appearance, even if you are flooded with neighbors from above. In this situation, there will be no stains or stains.

Is it worth using a mural in the interior

In areas such as the bathroom or kitchen, the speed of repair is important, which is why many owners tend to plastic panels rather than tiles. This option is much faster and cheaper. The mural looks great, is easy to clean, does not depend on humidity and temperature differences.

The main advantages of decorative panels include ease of installation, durability, low maintenance, relatively low cost and a wide variety of design solutions. With the help of a mural, you can create a bright accent in the room, giving it aesthetics and originality. In addition, plastic panels can differ not only in style, but also in format, which makes it possible to use them for walls of different sizes, as well as to implement any design ideas.