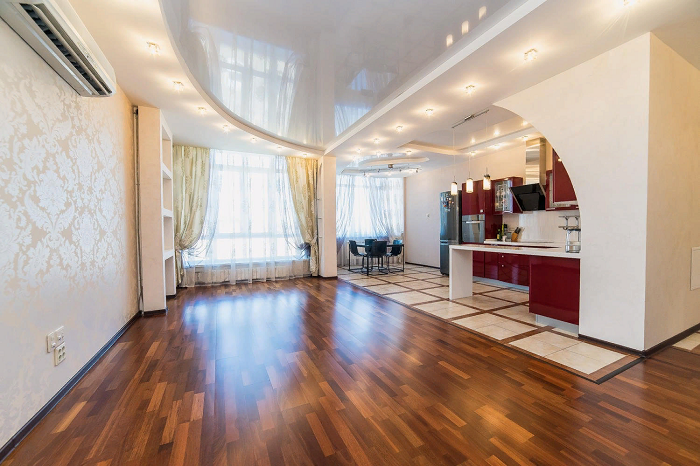 27 Apr

One good advice about repairs

As they say, to make good repair, you need 3 things: money, money and money again. Yes, you can save. But only now, unfortunately, the savings often come out sideways.

Do repairs yourself?

Get ready for the fact that you will leave for him all vacation and all the weekend after vacation for at least a couple of months.  Plus the hassle with the search and delivery of building materials, tools and various little things that were remembered at the last moment.

Well, if you only need to deliver a few bags of dry mixes, tiles and wallpaper. All this can be brought in your own car. And then, of course, also drag to the floor

You will have to tinker with non-formatted cargo – a linoleum roll, 3-meter panels, skirting boards and an aluminum profile. They won't fit in a regular car. So, transport will have to be ordered. Linoleum, drywall sheets and other overall weights cannot be lifted alone. So, you have to order movers.

Finally, the main building materials are raised and repairs can begin. And then you realize that the hardest is ahead.  Peel off the ceiling and walls, prime them, remove the floor covering – hard work, but not requiring special skill. Break, as they say, do not build.

When it comes to restoring what has been destroyed, this is where the problems begin. Align the ceiling and walls, lay tiles, level and lay a new floor … All this easily and quickly happens on TV in the hands of masters. So it seems – nothing complicated. But, armed with a bucket of mortar and a spatula, you may quickly reconsider your idea of ​​\u200b\u200byour building abilities. Especially if you've never done something like this before.

No, of course, it will work out … With great pain and loss of time. And, with the last effort to finish the work, you will not really monitor the quality. Because – "it would be over soon". But then, a year later, when you look at the fruits of your hands, a bitter thought may arise in your head: "I would like to tear off this master's hands!». And that means you have to start over again.   If you are not a professional builder, this course of events is very real.

So, let's say you changed your mind about doing repairs yourself and decided to take an intermediate path: invite a person through an ad or an acquaintance. Let's not lie – it's a lottery. And here the truth can get lucky. For a relatively small amount (there are no small amounts in repairs), they will make a fairly high-quality repair. Without guarantees, really … And all the minor improvements that will come up later will have to be eliminated on your own. But it's tolerable.

The weak point of this wonderful plan is precisely the calculation of luck. But she has her own schedule, which may not coincide with yours. And then you have to make a fuss, demand to redo it, make a fuss again, expel the old brigade, look for a new one… Then – constantly monitor their work, being taught by bitter experience. And get bogged down in constant financial disputes and calculations, because the work is evaluated "by eye".

Want to save your nerves, your time and your money? Choose the right construction company. The one that has been renovating apartments in Kemerovo for more than a year, works under a contract, has fixed prices for all services and is able to provide an accurate estimate for all types of work.

A good company will take care of the purchase of building materials (and they buy them in bulk, at lower prices than you – so you save here), their delivery and lifting to the floor.

Plus – a guarantee on all work performed. It applies to all work performed and is valid from several months to a year.

You can get acquainted with the prices for apartment renovation right now on evro42 – the website of the repair and finishing company "Evrostyle".