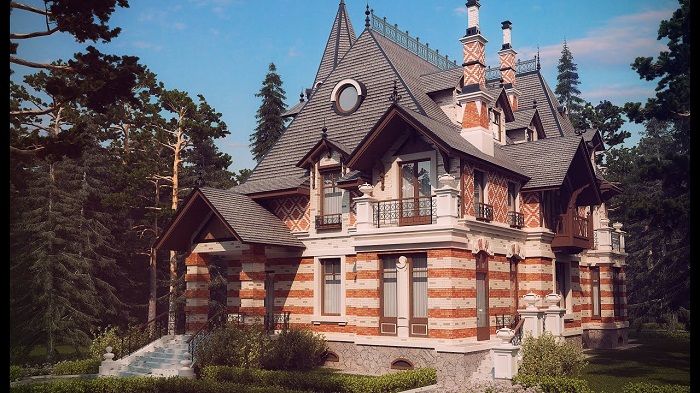 20 Aug

Russian style in architecture: a combination of traditional forms and elements, born under the influence of different styles and trends

Russian style in architecture is a combination of traditional forms and elements that have been present in Russia for hundreds of years.

The peculiarity of this style is that it has accumulated many characteristics of other styles, which it has been influenced over the centuries. Russian architecture combines the features of traditional Russian folk architecture with its carved towers, Orthodox architecture and Western European trends.
Peculiarities
The most stable Russian national features in architecture are:
The presence of a harmonious relationship with the landscape.

Buildings organically fit into the surrounding landscape, there is a closeness to nature.

Steady tendencies towards the formation of ensembles are observed.

In Russian architecture, different areas of art are synthesized.

Most of the buildings are built according to a single model, which contributes to the formation of a harmonious environment, decorated in the same style.

The dimensions of the buildings are proportionate to a person.

There is no tendency to create giant buildings.
Russian architecture is silhouette, three-dimensional, picturesque. At the heart of Russian architecture, there is a predominance of epic motifs and the Byzantine style. The color palette is in line with Asian traditions.
House-terems deserve special attention as a unique phenomenon of Russian architecture. This is a very spacious wooden building with hidden galleries and a high porch. On the facade there are rows of windows and all of them are decorated with figured platbands. The ridge on the roof also adorns the rich decor. Patterned carving is comparable to lace in terms of subtlety. The galleries are supported by thick low columns decorated with balusters. The facade of the tower is decorated not only with carvings, but also with tiles.
Orthodox Russian architecture is characterized by the presence of large gilded onion-shaped domes. Their surface is decorated with complex ornamentation. Russian Orthodox churches look very majestic and solemn. Churches are decorated with floral patterns, frescoes, icons.
In the cities, the Russian architectural style is presented as a bizarre mixture of different directions. The design of the buildings contains elements in the Baroque style, decorated with carvings and pilasters. There is an abundance of decorative elements on the facades: cornices, statues, etc. Among the building materials, wood predominates, creating an atmosphere of warmth and comfort.