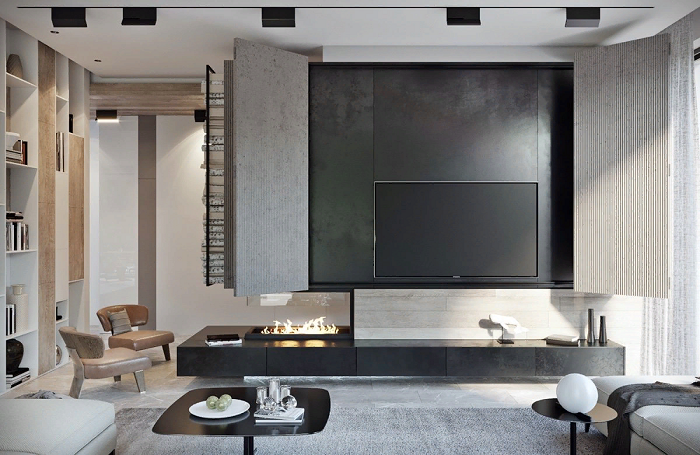 04 Mar

Save your interior – hide your media

Technology can certainly spoil the interior of your home if it is exposed too frontally or flaunts completely in the center. However, today embedded technology is used to solve this issue, as well as wireless functions.

Embedding makes perfect sense for your kitchen, doesn't it?? So why don't you consider it in other rooms? Any, even the most traditional design of a room, can be kept as intended by simply hiding the technique. All your electronics, without which a modern house in the age of the digital age is simply unthinkable, can be well hidden and decorated.

Cabinets with small openings can be used to hide DVR and Blu-ray players in order to control from the remote.

Wanna hide the TV? Just put it behind a special TV mirror (sometimes called a dielectric mirror), and drown the television elements in the wall. Then there are two options – the remote control switches the mirror from a reflective screen to a transparent one, or special TVs are used, which, when turned off, are activated in the mirror. Thus, while you are not using the TV, your wall will not have a black rectangle, but an ordinary mirror.

Home theater does not need intrusive large speakers on the sides. Install ceiling speakers. By the way, many ceiling speakers are controlled in such a way that you can control the flow of sound direction, so the sound can really literally surround you.

Alternatively, you can install the TV in a recess in the wall and bury it with a decorative door. Instead of a door, you can use a picture or any other suitable accessory.

Another awesome TV hiding idea is a mirror with built-in LCD technology. Roughly speaking, a TV will be built into your glass. Most often, this technology is used for bathrooms, installing it on a mirror or glass of a shower cabin. By the way, such options for embedding TV in glass are now widely used abroad, and over the past six months, the demand for them has greatly increased and continues to grow. The development of these and other similar technologies in Russia (headquartered in St. Petersburg) is carried out by posterspb. If you are interested in such TVs built into the mirrors, then posterspb company managers can tell you more about the project implementation.

Sound zones can be set up throughout the house by installing hidden speakers, so you can run an audio system throughout the house without using a huge number of players

Some more useful equipment. First, the remote control on RF waves instead of infrared. For example the Logitech Harmony Remote Control model (it costs about $350). It even sends signals through the wall, so you can easily hide electronics. Second, wireless audio equipment, wireless speakers. With their help and via Wi-Fi, you can not only listen to music separately, but also send it to the speakers built into the house.

If you want to go all nine yards.

If you really want to install, hide, hide your equipment and configure the built-in electronics, then you need to entrust this matter to professionals. In no case should access to the wires and the equipment itself be tightly hidden, but it should be so good that only you know about it. In addition to the fact that these are responsible works in terms of construction, electricians are not toys. Therefore, it would be better to hire a specialized company that will carry out the entire process of work for you.

Portal Proektstroy wishes you a successful renovation and more great ideas for your home. Hide your tech the right way. love your interior.