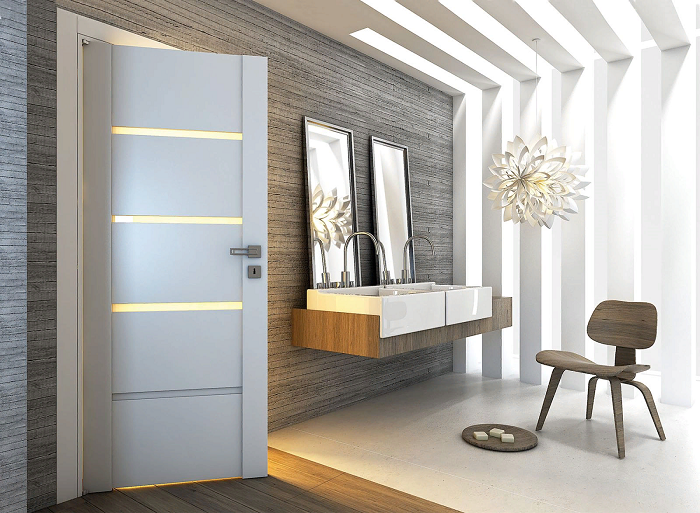 13 Jan

What should be the doors to the bathroom

When choosing doors, a number of different points are taken into account. Color, design features, material quality and cost are very important. Usually, bathroom doors are selected exactly the same as for all other rooms. It is important that doors for a room such as a bathroom resist moisture and temperature changes well. Steam and water can cause rapid deformation of the materials from which the door is made, and this will necessitate their replacement.

What should be the doors to the bathroom

It is important that such a room has excellent ventilation. It is important that the wet steam leaves the room as quickly as possible, and that the entire temperature returns to normal. If the bathroom is properly ventilated, then any door, even if not of such high quality, will last a very long time.

How to choose a door

There are types of doors that are most resistant to moisture.

glass doors. The important thing is that they are as practical as possible, look modern, fully fit into the overall interior. They are not afraid of bacteria and mold. They do not swell at all, and they can be washed easily and quickly using conventional products. For their manufacture, glass with a matte surface is used, which is framed by plastic or metal. But there are those who are sure that the bathroom is quite a private space, so a glass door is not suitable for him. But this is wrong, since such doors can be tinted or painted in such a way that the room will be completely hidden from prying eyes.

plastic doors. They also resist moisture well. They look as stylish as possible if glazing is used, and they are also painted in exactly the color that is perfect for the entire interior. The cost of such a door is very acceptable, which is also important.

What should be the doors to the bathroom

MDF or chipboard doors with laminate finish. For their manufacture, extremely durable and lightweight composite materials are used. On the front side, they are covered with a high-strength film that perfectly recreates the entire structure of a real tree. Their cost is as affordable as possible than those made of wood.

Veneered doors are very common today. On top, the veneer is varnished, which perfectly protects against water. You can not be afraid to install such a door to the bathroom if you do not pour water from the shower on it.

Even stronger doors with eco-veneer, which are covered with plastic. This material is very durable, no harmful polymers are used in its production. Outwardly, it is very similar to a tree, even by touch it cannot be distinguished from it. The base is made using vacuum technology, and a coating is made on top for a long service life.

It happens that solid wood doors are installed. It is important that all technologies are fully observed in the manufacture, and the wood is completely dry. The array is protected by coating in several layers.

Bathroom doors are glazed or solid. Stained glass windows are very common. It is important that the door is in complete harmony with the finish that is made in the room, as well as to match other doors in the apartment or house.

It happens that interior doors are decorated with plug-in structures made of metal or glass. In the bathroom, this is undesirable so that there is no hassle when cleaning.

You can put the door of absolutely any company. This type differs from ordinary doors only in its size. The width of the plumbing doors is 55 centimeters, and interior 80.